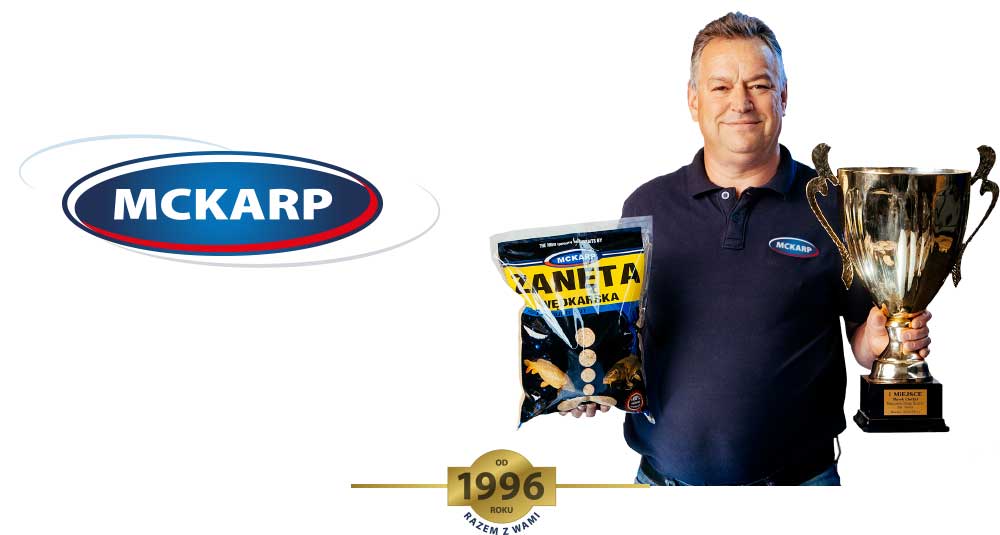 Manufacturer of fishing lures and fishing tackle MCKARP

As the only company in Dębica since 1996 he specializes in the creation of high quality fishing baits, components, fragrance concentrates, molasses and pellets. As the only company in Dębica producing fishing bait. The main activity is the production of natural baits, atraktorów fragrances and components with unique compositions of taste-fragrances such as: squid, corn, almond, strawberry, cranberry, banana, vanilla.
Only well-calcined best natural ingredients are used for production. Recipes arranged with extreme care are based on long-term fishing experience.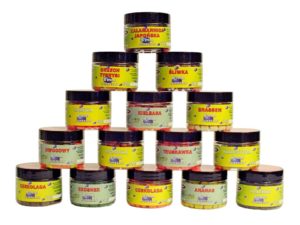 Dumbells-Enlarged MCKARP offer for 2018
Specially contoured roll pellets can be assembled using latex rubbers. Dumbellsy in size 8mm, these products are of the highest quality manufactured from specially selected ingredients that allow for excellent work on any fishery. A large selection of fragrances and colours… See Dumbells Offer
A range of protein balls in: 12, 16 and 20mm with different flavors and fragrances. Tests of the new MCKARP boilies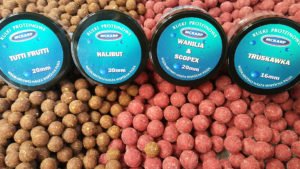 In the offer you will find bait, bait and components for fishing carp, Linów, bream, Roach, karasi and many other fish of the quiet coarse. The wide range will satisfy professionals and enthusiasts of fishing. Constantly expanding and improving the offer and ensuring the constant and high quality of products MCKARP increases the group of satisfied and loyal customers from Poland, but also from abroad such as Germany, England, Italy, Lithuania, Ukraine. Guaranteed good cooperation with wholesalers and fishing shops! Join the group of satisfied customers!
Call us now! Learn more about Zanętach and fishing components Tel.: 601 683 666
Check how much you can save! The offer is directed to wholesalers and online shops (wholesale). Producer of Fishing Baits
Offer MCKARP in PDF download. Remember that fishing is our shared passion!
What is groundbait fishing?
Groundbait fishing-traces of food of high aromatic value served in the fishery by fishermen, in order to Przywabienia and keep fish in it. Groundbait has different composition and consistency, depending on the poławianego of the fish species and the fishery.
Fish are zwabianeed with Atraktorom fragrance. Bait fishing Tackle is used before fishing for even a few days (when it comes to habituation of fish to an unknown bait) or before and during fishing to maintain allured fish in a fishery.
At the beginning of some basic councils in the preparation and use of bait
All ingredients should be thoroughly dry mix. Add water before fishing. If the bullets do not want to stick you can also add glue to the baits. After soaking the groundbait sift through a sieve for even hydration. This is a very important act scorned by many anglers, and has a large impact on the work of bait in the water, and this translates into results in the catches. Tempt should be in point! It is important that the bullets boilie were hard enough to fly in the colości, but soft enough to groundbait the bottom of the Opadnięciu could work. It's better to be too dry than wet. A guarantee of Doras fishing!
For each of the baits, you can even add a fragrance concentrate what kind of fish you like. Often it is also dependent on the fishery-on each is different. More on Wikipedia groundbait
Pellet Feeder
Pellet-is one of the most commonly used baits in the middle of carp. Its main advantage is the speed of work and the selective size. Most pellets quickly decay into water to form a feeder rug. Pellets have a very diverse composition from such large quantities of fish meals to dairy pellets or cereals, which are a predominance of plant-derived ingredients. Pellets can also be used as bait especially those with larger diameters.
See now demo version of MCKARP pellets!