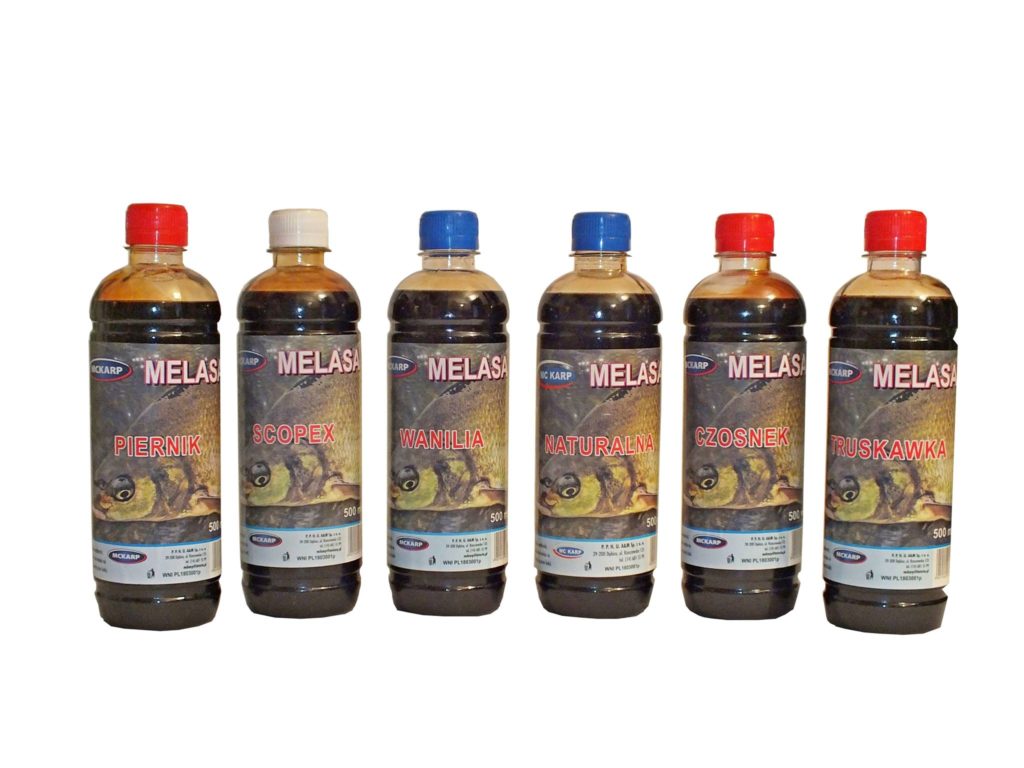 MCKARP offers a large selection of fishing molasses
Molasses Scopex
Molasses Garlic
Natural Molasses
Molasa Bras
Molasses Strawberry
Molasses Gingerbread
Melasa Vanilia
Fishing molasses
Brown, viscous liquid obtained from the production of sugar from sugar beet. It has a sweet but slightly seady taste, which most fish do not like, as they are not accustomed to many flavors in one food. A bonding, binding, strongly colouring the bait brown. Blends well with baits based on ground bread or breadcrumbs. Powdered molasses is part of PV-1, a high-protein compound feed used in baits, mainly as a binder.
We add molasses to the baits after dissolving in water. Poured directly from the bottle clumbles the ingredients and will prevent them from rubbing. We dosing extremely carefully, because molasses can improve the value of the bait, but also completely and irreversibly spoil it. A good addition primarily for bream, sometimes carp mixtures. Its share can reach up to 20%, in others 5 – 10%.
Fish like sweetness. Carp, caras, ropes and bream are especially lost for it. Sweet baits also lure roaches, but quickly hiss them. Anyway, all natural sweeteners are high-energy. Therefore, most often we reach for them in the summer, when fish prey intensively.
What is molasses?
Molasses (molasses) is a dark brown, thick syrup with a weak alkaline region. It is formed as a by-product during the production of food sugar. It is a product with a content of about 40% sucrose, the further recovery of which is unprofitable.
It is mainly used for the production of alcohol, baker's yeast and feed, for the production of organic acids – citric, oxalic, glycerin. It is a rich source of non-hem iron. Betaine can be isolated from it.